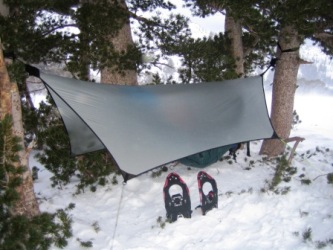 Welcome To The Woods!
Tothewoods.net is a collection of my thoughts on hammock camping, lightweight backpacking, DIY gear, and trip reports (and now there's an RV section). I started it because I was doing so much research on how to stay warm and comfortable in a hammock, and at that point (approx. 2002) there weren't many places with this kind of info. I knew I wasn't the only one with these questions, so I started cataloging my research and projects to make it easier on others doing the same research. People started emailing with their own ideas to discuss, and then ATTroll and I started HammockForums.net as an offshoot of Whiteblaze.net, and all the ideas started feeding off of each other and turning into LOTS of new and innovative projects.
We eventually reached a tipping point, and today Hammock Forums has become the go-to place for advanced info on camping hammocks. I'm no longer active on Hammock Forms, but I still run ToTheWoods.Net as a place for newbies to learn the basics of hammock camping, and as a catalog of my projects, trip reports and thoughts. In a few articles, I summarize some key aspects of hammock camping just to keep the info organized in one place so it's easier to digest, without having to sort through all the threads on all the forums that discuss the details of hammocking.